Hot Wheels Unleashed™ 2 – Turbocharged Roster di D1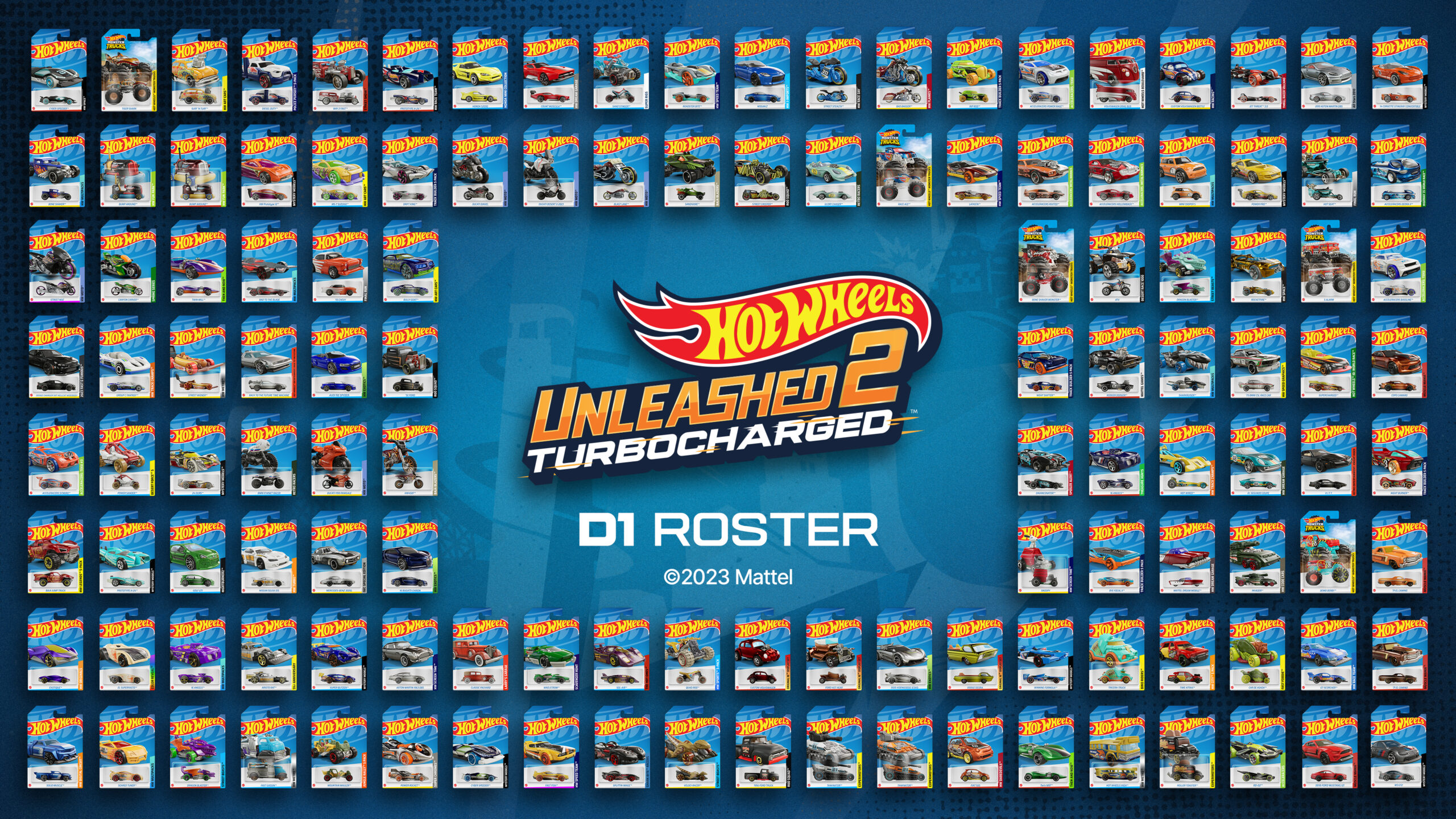 È arrivato il momento di scoprire la scoppiettante lineup di veicoli disponibili su Hot Wheels Unleashed™ 2 – Turbocharged a partire dal day1! Scalda i motori e preparati a immergerti nell'avventura di arcade-racing più elettrizzante che mai!
6 categorie di veicoli, ognuno con le sue specifiche caratteristiche che influenzeranno il gameplay durante la gara: Rocket, Balanced, Swift, Drifters, Off-Roads e Heavy Duty.
Nel caso ti fossi perso il nostro approfondimento su questo topic, corri a leggere The Inside Track Chapter 1 per scoprire tutto quello che gli sviluppatori del gioco hanno svelato sui veicoli nel videogame in arrivo.
Bassline
Hollowback
Power Rage
RD-02
Rivited
Synkro
2010 Aston Martin DBS
1964 Aston Martin DB5
Audi Sport Quattro
Audi R8 Spyder
BMW R nineT Racer
M3 GT2
BMW 3.0 CSL Racing
2016 Bugatti Chiron
Snoopy
14 Corvette Stingray Convertible
Copo Camaro
'55 Chevy
'71 El Camino
Dodge Charger SRT Hellcat Widebody
1967 Dodge Deora
1199 Panigale
Desert X
Diavel
FIAT 500
2018 Ford Mustang GT
'32 Ford
1956 Ford Truck
Ford Hot Heap
Deora II
2009 Honda S2000
24 Ours
5 Alarm
Bad to the Blade
El Superfasto™
16 Angels™
Bone Shaker (Monster Truck)
Aristo Rat™
Bump Around
Bye Focal II
ATV
Bad Bagger™
Baja Jump Truck
Blast Lane™
Bully Goat™
Canyon Carver™
Car-de-Asada™
Demo Derby
Dragon Blaster
Count Muscula™
Cyber Speeder™
DAVancenator™
Diesel Duty™
Drift King™
Exotique
El Segundo Coupe™
Fast Gassin
GT-Scorcher
Hot Seat
Glory Chaser™
Hot Wheels High
Hot Wired™
HW Prototype 12™
Invader
HW450F™
Jet Threat™ 3.0
La Fasta™
Maelstrom™
Mattel Dream Mobile
Mountain Mauler
MS-T Suzuka™
Night Burner
Night Shifter
Power Pro™
Power Sander™
Prototype H-24™
Quad Rod™
Roadster Bite™
Sand Stinger™
Seared Tuner™
Power Rocket
Sol-Air CX4™
Splittin' Image II™
Street Noz
Race Ace
Rip Rod
Street Stealth™
RocketFire
Rodger Dodger
Roller Toaster
Super Blitzen™
Sandivore
Group C Fantasy™
Sharkcruiser
Solid Muscle
Twin Mill™
Street Creeper
Way 2 Fast™
Street Wiener
Supercharged
Surf 'N Turf
Tanknator
Tiger Shark
Time Attaxi
Tricera-Truck
Veloci-Racer
Winning Formula
2020 Koenigsegg Jesko
1954 Mercedes-Benz 300 SL
Mini Cooper S JCW Challenge
Liberty Walk Super Silhouette Nissan Silvia S15
Nissan Z
Time Machine
K.I.T.T.
2018 Custom Volkswagen Bug (1968)
Volkswagen Drag Bus
Volkswagen Golf GTI
2012 Custom Volkswagen Bug (1968)
Bone Shaker
Classic Packard
Questo è solo un assaggio di tutti i contenuti che avrai a tua disposizione su Hot Wheels Unleashed™ 2 – Turbocharged, con oltre 130 veicoli disponibili al lancio. Hai già dato un'occhiata al nostro ricchissimo piano post-lancio? Eccolo! Hotwheelsunleashed.com/post-launch/
Ci siamo quasi! Sei pronto a scatenarti con Hot Wheels Unleashed™ 2 – Turbocharged? Sarà disponibile dal 19 ottobre 2023 su PS4, PS5, Xbox One, Xbox Series X|S, Steam, Epic Games Store e Nintendo Switch™.