Introducing the Hot Wheels Unleashed™ 2 Day One Roster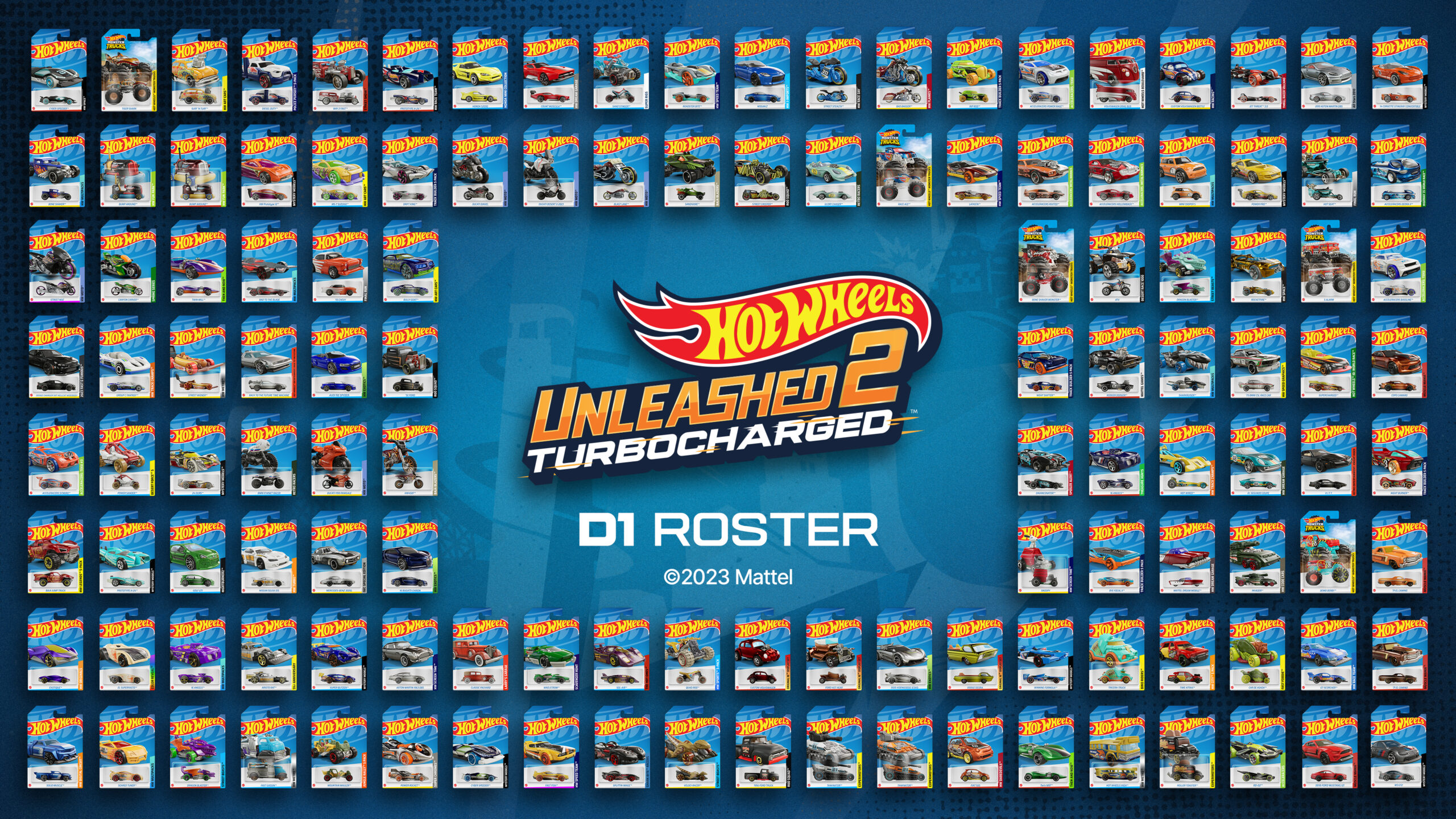 It's time for you to discover the heart-pounding lineup of vehicles available from day one in Hot Wheels Unleashed™ 2 – Turbocharged!
Prepare to rev your engines and embark on the most electrifying arcade racing adventure!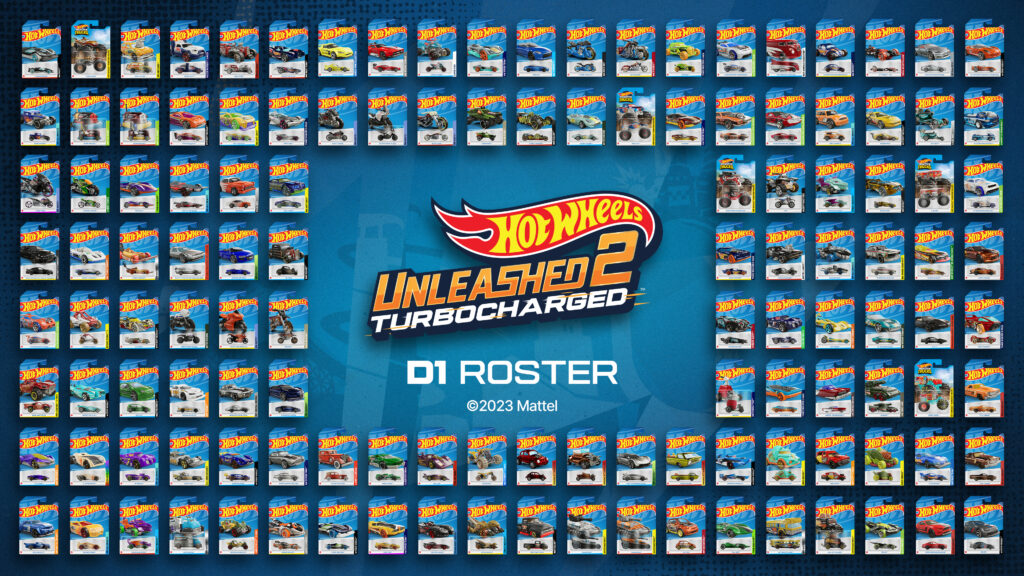 6 Categories of vehicles, each with its own unique characteristics to impact the gameplay: Rocket, Balanced, Swift, Drifters, Off-Roads and Heavy Duty.
In case you missed our focus on this topic, check The Inside Track Chapter 1 to discover what the Hot Wheels Unleashed™ 2 Devs revealed about the vehicles in the incoming game!
Bassline
Hollowback
Power Rage
RD-02
Rivited
Synkro
2010 Aston Martin DBS
1964 Aston Martin DB5
Audi Sport Quattro
Audi R8 Spyder
BMW R nineT Racer
M3 GT2
BMW 3.0 CSL Racing
2016 Bugatti Chiron
Snoopy
14 Corvette Stingray Convertible
Copo Camaro
'55 Chevy
'71 El Camino
Dodge Charger SRT Hellcat Widebody
1967 Dodge Deora
1199 Panigale
Desert X
Diavel
FIAT 500
2018 Ford Mustang GT
'32 Ford
1956 Ford Truck
Ford Hot Heap
Deora II
2009 Honda S2000
24 Ours
5 Alarm
Bad to the Blade
El Superfasto™
16 Angels™
Bone Shaker (Monster Truck)
Aristo Rat™
Bump Around
Bye Focal II
ATV
Bad Bagger™
Baja Jump Truck
Blast Lane™
Bully Goat™
Canyon Carver™
Car-de-Asada™
Demo Derby
Dragon Blaster
Count Muscula™
Cyber Speeder™
DAVancenator™
Diesel Duty™
Drift King™
Exotique
El Segundo Coupe™
Fast Gassin
GT-Scorcher
Hot Seat
Glory Chaser™
Hot Wheels High
Hot Wired™
HW Prototype 12™
Invader
HW450F™
Jet Threat™ 3.0
La Fasta™
Maelstrom™
Mattel Dream Mobile
Mountain Mauler
MS-T Suzuka™
Night Burner
Night Shifter
Power Pro™
Power Sander™
Prototype H-24™
Quad Rod™
Roadster Bite™
Sand Stinger™
Seared Tuner™
Power Rocket
Sol-Air CX4™
Splittin' Image II™
Street Noz
Race Ace
Rip Rod
Street Stealth™
RocketFire
Rodger Dodger
Roller Toaster
Super Blitzen™
Sandivore
Group C Fantasy™
Sharkcruiser
Solid Muscle
Twin Mill™
Street Creeper
Way 2 Fast™
Street Wiener
Supercharged
Surf 'N Turf
Tanknator
Tiger Shark
Time Attaxi
Tricera-Truck
Veloci-Racer
Winning Formula
2020 Koenigsegg Jesko
1954 Mercedes-Benz 300 SL
Mini Cooper S JCW Challenge
Liberty Walk Super Silhouette Nissan Silvia S15
Nissan Z
Time Machine
K.I.T.T.
2018 Custom Volkswagen Bug (1968)
Volkswagen Drag Bus
Volkswagen Golf GTI
2012 Custom Volkswagen Bug (1968)
Bone Shaker
Classic Packard
These are just a glimpse of the incredible content you'll have at your disposal in Hot Wheels Unleashed™ 2 – Turbocharged, with more than 130 vehicles available on Day One. Have you already had a look at our incredible post-launch plan? Here we go! https://hotwheelsunleashed.com/post-launch/
Get ready to unleash the turbocharged power of your dreams, starting October 19th, when Hot Wheels Unleashed™ 2 – Turbocharged will be available for PS4, PS5, Xbox One, Xbox Series X|S, Steam, Epic Games Store, and Nintendo Switch™.