HOT WHEELS UNLEASHED™ 2 – TURBOCHARGED GAMEPLAY TRAILER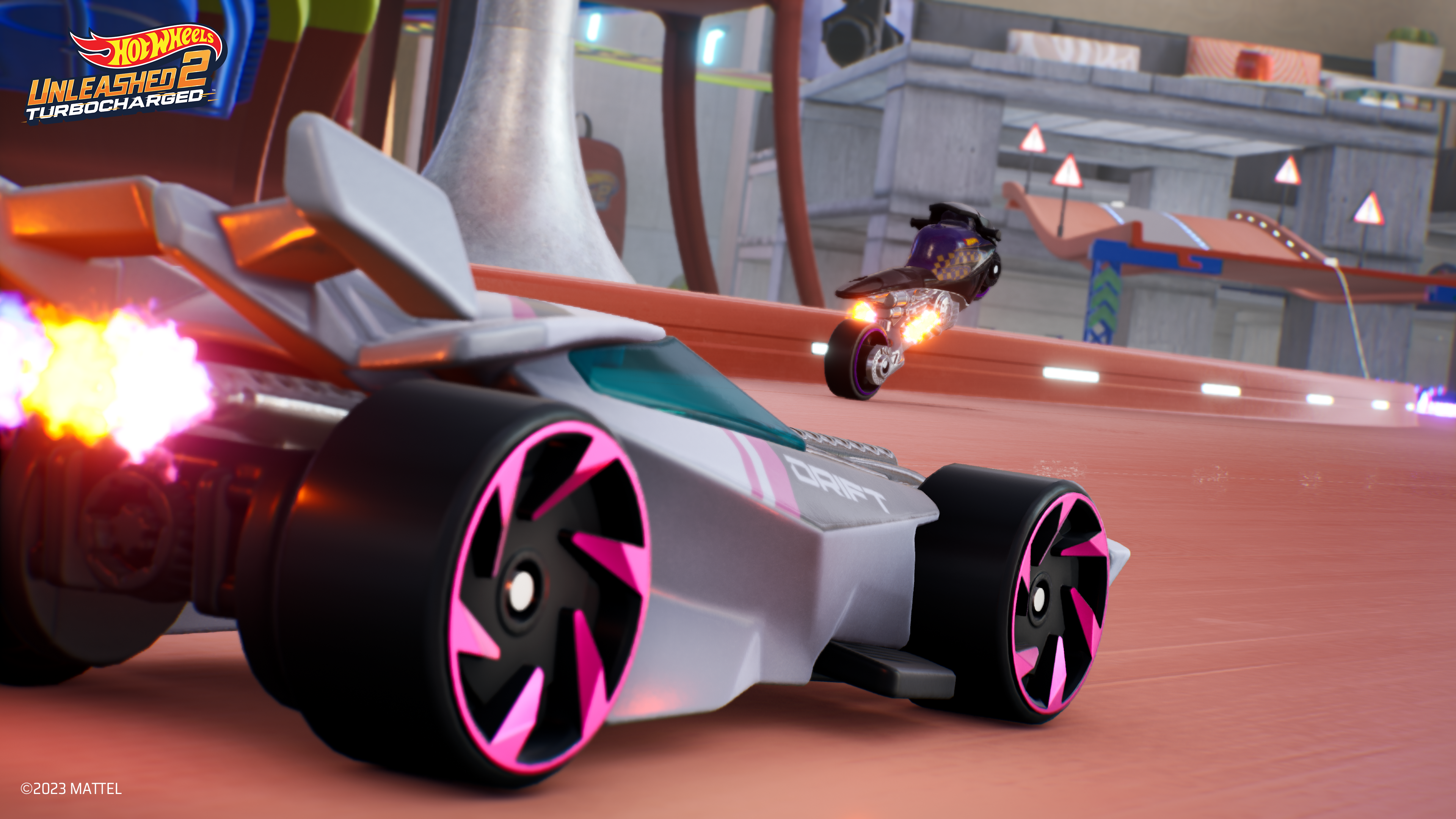 Up until today we told you about what awaits you in Hot Wheels Unleashed™ 2 – Turbocharged. Now it's time to see it for yourself! A brand-new trailer is now available, showing the amazing features of the upcoming game. But let's go into even more detail!
With the Jump or Double Jump, you'll find a fun new strategy to overtake opponents in tight spaces within the track boundaries, discover new shortcuts or, in certain instances, access previously unreachable sections of the track. Lateral Dash is another fresh mechanic that will enable you to swiftly shift to the side, colliding with opponents positioned on either side of your vehicle.
These new moves will add an extra layer of excitement in the new stunning environments with a range of surfaces significantly impacting vehicles' handling: a Backyard of a residential house transformed into a thrilling racing arena, a Mini Golf Course nestled within a Wild West township, a Museum where you can race among reproductions of dinosaurs and other fossil artifacts, and a Gas Station housing a once tranquil diner serving juicy hamburgers. Additionally, a Track Room will be available to let you craft your crazy tracks in a neutral space.
Make racing even more exciting by choosing from more than 130 vehicles from the Hot Wheels™ universe, including all-new classes such as ATVs and Motorcycles, each with its own style and character depending on the category it belongs to: Rocket, Balanced, Swift, Drifter, Heavy Duty, Off-Road.
To truly dominate the competition, a combination of muscle and brain is essential. That's why Hot Wheels Unleashed 2 – Turbocharged™ introduces a brand-new Skill System allowing you to customize the driving experience of your vehicles during races.
Finally, you will unleash your creativity using the Livery Editor and the brand-new Sticker Editor, creating personalized masterpieces that will stand out on the track, and share them with the world.
We think we said enough for today, but so much more is still to be unveiled. So, keep on following us to stay updated!
Hot Wheels Unleashed™ 2 – Turbocharged, will be available on October 19th for PS4, PS5, Xbox One, Xbox Series X|S, Steam, Epic Games Store, and Nintendo Switch.